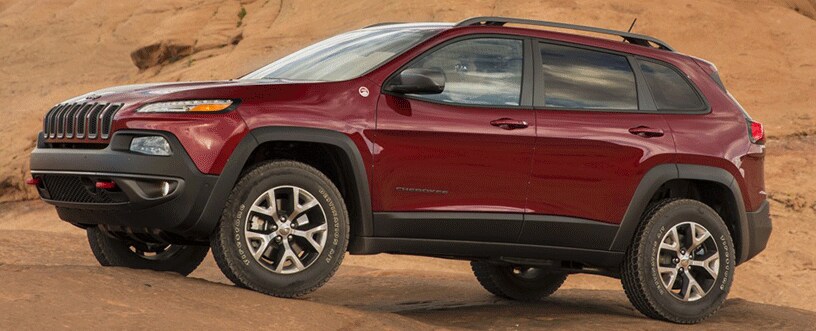 Nothing beats the feeling that comes from heading off down the open road in a brand new Jeep. Originally designed for use with the American military, those service men and women loved the vehicles so much that the manufacturers eventually released the vehicle to the general public. It's one of the few vehicles that will make you feel confident when driving along busy and crowded city streets and heading deep into the woods or high up in the mountains. Here at Martin's Garage, we help Kenosha area residents get the cars they want at an affordable price. We offer the 2014 Jeep Cherokee near Kenosha WI in a wide range of both colors and packages.
Benefits of New Jeeps
The new 2014 Jeep Cherokee ranks as one of the most affordable SUVs on the market today. U.S. News & World Report gave it an overall ranking of 7.9 on a 10 point scale, and it gave the 2014 Jeep especially high marks in terms of its safety features and performance. It comes in your choice of a V6 or a four-cylinder engine, and other engines let you enjoy the freedom of the open road. The 2014 Jeep Cherokee is one of the only vehicles on the market today that performs just as well off the road as it does on the road. Its phenomenal interior combines the luxury you crave with the comfort you need for those long hours you spend behind the wheel. With plenty of cargo space and room for your passengers, you'll love hitting the road for weekend vacations, road trips and more.
Get Your New Car Today!
Here at Martin's Garage located near Kenosha, WI, we want you to feel confident in your purchase. Not only do we have the 2014 Jeep Cherokee in stock, but we can also get you a model with any additional features that you want or need. You can add a touchscreen display to make controlling the functions on the vehicle a little easier, a charging pad that lets you wirelessly charge your smartphone, a leather steering wheel or even a system that monitors your blind spot for you. In addition to the new model, we also have a wide range of barely used Jeeps on our lot and other vehicles from Chrysler. We encourage our customers to stop in and talk over their purchases with us before they buy.
Contact Martin's Garage
Martin's Garage is your ultimate source for new and used vehicles in the Kenosha, WI area. Not only do we have a wide range of brand new models on our lot, but we can also set you up with a dependable and durable used car. You can find us at 1422 Main Street in Union Grove, Wisconsin. We open at 8 a.m. every Monday through Saturday, and you'll find that we keep convenient hours all week long. While we close at 3 p.m. on Saturday, we're open until 8 p.m. on Mondays and Wednesdays. Stop in and see us, give us a call or find us online today.




If the 2014 Jeep Cherokee isn't what you are looking for, please also take a look at our other Jeep, Dodge, Chrysler, or RAM models that you might be interested in.